Spotify is one of the world's most popular music streaming services, yet it is only getting started. This incredible platform now has millions of users as well as billions of music and podcasts to select from.

Is Spotify, however, more than meets the eye?

In addition to being inhabited by artists, music, and podcasts, this site has evolved into a location where you may earn money in a variety of ways.

Since we are all about generating money from your passion, let us get started and learn how to make money on Spotify.
Can You Actually Make Money by Uploading Music on Spotify?
Musicians were usually well-liked but not very wealthy entertainers. The music industry was always intricate, with numerous elements involved in the creation of a single song. This meant that the performer's earnings were not fully his or her own.

Today's scenario is a little different.

There are no additional fees for producing a CD or a record because music is uploaded online. Furthermore, with so many social networks at your disposal, promotion is easier than ever.

This, however, implies that competition is fiercer than ever before, and the market is saturated. But, as an artist, can you make money on Spotify? The straightforward answer is yes.

However, bear in mind that this process will take time, and before you even contemplate going down that route, you should first get a better understanding of the Spotify platform and concentrate on acquiring as many followers as possible.

How Much Money Can You Make on Spotify?
The amount of money you may possibly make from music streaming services like Spotify is determined by a number of factors. Furthermore, there is no clear evidence that everyone makes the same amount of money under the same conditions.

Overall, if you opt to upload your music to Spotify, you can expect to get paid depending on the number of views, or streams as they are known on the platform. This figure represents the number of individuals that listened to at least 30 seconds of your music.

The money per stream is about $0.00397, which may not seem like much, but if you have over one million streams, you may make up to $4.000. That does not seem so awful, does it?

However, like with other money-making possibilities, this one is not as basic and uncomplicated. As a result, we will pay greater attention to the issue and provide other ways to generate money on Spotify.

How Can I Earn Money on Spotify?
As Spotify grew, so did the methods of making money. Aside from having one of the finest music and podcast collections, there are two major methods to make money with Spotify.

First and foremost, you do not have to be a musician to make money by promoting other producers and musicians. This is accomplished by crafting Spotify playlists and being compensated to promote new performers.

To even contemplate this alternative, you must first understand the following:

1. Develop an audience
It goes without saying that all social media platforms, including Spotify, rely largely on users and followers. This is why you should invest in your Spotify growth and ensure you have a sufficient number of followers to be deemed a competent curator.

2. Make playlists
Playlists are an important element of Spotify, which is why we encourage our readers to pursue their passions and create playlists that they like. There is always an audience for any kind of music; all you have to do is spend some time researching and finding the most eye-catching key phrases.

3. Socialize
While marketing your Spotify account is essential, do not overlook the power of other social media sites. Use them all to promote the material you are generating, and be persistent in your efforts.

Once you have established yourself as a high-quality curator with a large fan base, bands and artists will approach you about appearing on one of your lists. If you know what you are doing, this may be fairly profitable, since some people will pay extra to be advertised in the proper location.

How to Promote Your Music on Spotify?
Promoting your music on Spotify is another method to earn a livelihood and perhaps turn it into a full-time profession. There are a few things you should think about if you want to be the next popular musician.

To begin with, without distribution services, there is no way to advertise and upload your music on Spotify. There are some that Spotify recommends, but you may use anyone you choose. Music streaming is not as simple as it appears and includes several contracts and fees.

Distributors are not free, but they are also not expensive. However, keep in mind that you will need to invest some money before you can start making any.

Once your music is on the platform, you will be compensated for:

1. Master Use Royalty – This is generally the largest portion of your revenue because it is paid per stream and maybe fairly substantial even at modest rates.

2. Mechanical and Performance Royalties – These royalties are paid each time your song is listened to on Spotify. However, keep in mind that money is not paid directly to you, but rather to various performing rights organizations based on your region.

If you do not want to deal with all of the intricacies, your distributor may monitor all payments for an additional charge.

So it is enough to make good music and hope for the best? No, it does not.

Because there are so many new artists on the scene, you must think outside the box and utilize all available tools if you want to make it in the industry. So, just composing and playing music is not enough; you also need to promote it.

This can be accomplished in a variety of ways:

Use all social media platforms to promote Spotify;
Establish a brand;
Interact with other artists;
Start a blog or website;
Promoting your material in whatever manner imaginable is the most effective approach to ensure that your music reaches individuals who might enjoy it.

Furthermore, the ideal advertising strategy is to make more music. This may seem obvious, but most individuals ignore the reality that in order to succeed in this industry, you must be current and relevant.

If you build a brand with your name and music, you can always make and sell merchandise with your logo on it to enhance your revenue.

Final Thoughts
As you can see, there are several methods to generate money on Spotify. While the path may not be the simplest, there are several benefits in the long term. You may anticipate success in all of the other platforms if you publish and promote your music on this one.

The essential thing to remember is that a healthy and robust Spotify account with a large number of followers is the first thing you should focus on before considering extending your earning potential.
The music community is always evolving and changing, so you should get started right away and follow all of our recommendations to achieve the greatest outcomes possible.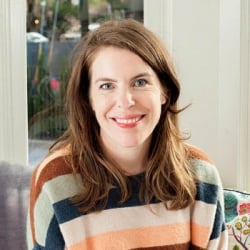 Latest posts by Maddie Schultz
(see all)