Gone are the days of the cassette mixed tapes that people swap with each other. With the advent of the internet and digitalization, even playlists are now made online. Spotify, in the spirit of mixed tapes, offers its users the chance to create their own playlists that other people can listen to.

Benefits of a Popular Spotify Playlist
Once you have a reputation for creating official Spotify playlists that garner thousands of streams per month, you can start making money in the music industry. New artists and managers will pay to include their tracks in your playlists. You will then be like a radio station that features well-curated songs and also promote music from new talents that your followers might like as well.
Paying for a spot on your list enables musicians to get much-needed exposure. Their songs will get listened to by thousands, something they cannot do right off the bat on their own even as a Spotify for Artists member.
Just make sure to keep the quality of your playlists. Only include tracks that you like, too. If you start adding songs that do not fit your standards, it might turn off your followers.

How to Get More Spotify Playlist Streams
For you to be able to earn money from making playlists, you first have to grow your audience. The larger your audience, the more likely your playlists will be streamed numerous times. Using the Spotify promotion is quite unsatisfying, though.
For you to reach a high level of popularity, we have compiled an easy-to-follow guide on how to promote a Spotify playlist.
1. Create an awesome playlist.
Surprise! Playlist promotion is not the first step in promoting your playlists. It actually starts with the creation of your playlist.
Do not create a dime a dozen kind of playlist. Start a new one that will stand out from the rest. If you can predict the sound that will be the next hit, be one of the first ones to make a list with it. The early lists usually become the popular playlist of the new trend.
You can also choose a mood, theme, or subgenre of music that does not have a lot of playlists made for. Some of the more popular lists are songs to listen to while studying, working, working out, or traveling. Try creating a playlist for other activities that are best done while listening to music.
Once you have decided on the theme, carefully pick out the songs. Make sure that every song fits the title or theme of your playlist. Only put the songs you personally like yourself. This will give your list a character.
Then put the best song on the top of the list. You need to get the people hooked and encourage them to listen to the rest of the collection. A great song will do that for you.
2. Put your playlist on loop.
The easiest way to incorporate your playlist into the platform's algorithm is to listen to it. Playing it every day, on loop, for a couple of hours a day will boost it organically. Given that you like the songs you included in the list, you will not have a problem listening to them daily. In fact, you will actually enjoy doing it.
Then you will be surprised at how just listening to the playlist that you have made will already gain you followers.
3. Optimize your playlist for searches.
Use keywords that are popular in searches in your playlist title. Write a descriptive title to let people know what to expect from your playlist. Utilize tags to make your list easily searchable.
Always include the genre and/or subgenre for your playlist to pop up in the more refined searches.
4. Make great cover art.
Cover art is the first thing that people can see and base their judgment on your playlist. List titles can be similar to other lists, but your cover art can make you stand out.
Look for an eye-catching piece that represents your playlist. Ask the artwork's artist for permission to use their creation. Purchase it if necessary.
Alternatively, you can tap your creative side and make your own art. This way, you will not have to worry about copyright issues or spending money that you do not have much of.
5. Promote your playlist.
You probably already have accounts on various social media platforms like Spotify, Facebook, and Twitter. Put them to good use by promoting your playlists on their sites. This lets your friends and followers know that you have a playlist that they can listen to. Do not forget to make the post public, so people can reshare your playlist to the other people they know.
6. Share using Spotify Codes.
Spotify creates a unique code for every playlist. It looks like a simplified sound wave barcode under the cover art. This code can be scanned to easily access your playlist on Spotify.
When you share the list on your other social sites, include the Spotify Code. Your friends can pull up your playlist on their phones just by scanning the code photo.
7. Involve the artists.
If you can contact the artists of the songs you have on the list, it would be a great opportunity for you. Make an artist playlist and have them promote it to their followers.
You can also do a shoutout or tag the artist's profile on social media sites. This will let your playlist link post be seen by the artist's followers as well as people who search for them.
8. Post your playlist on Reddit.
Reddit has a lot of users interested in specific genres of music. Find your niche thread and promote your playlist there. If you cannot find a thread dedicated to your theme or genre, try going here or create a new thread.
9. Do a playlist exchange.
The platform has its own community where people can connect with each other. Visit the Spotify Playlist Exchange page to post your playlist and check out other people's playlists. Playlist exchanges offer a mutual benefit for both parties. You might even discover new music that you'll like by sharing playlists.
10. Join playlisting sites.
There are numerous playlisting sites, a.k.a. Spotify curators, on the internet like IndieMono, Soundplate, and Playlist Pump. These playlist curator sites offer their users fresh playlists to listen to every day. Have them include yours by submitting your playlists and be a consistent source of new lists.
11. Be prolific.
Do not stop creating playlists regularly. If you cannot make a new one, at least keep updating your existing lists.
Be careful when removing songs from old playlists, though. Some listeners might miss the song. Just keep adding songs to the list to keep it fresh.

Making a Great Playlist is the Key
Creating an awesome playlist is still the best way to get organic followers that will stick to listening to your playlists. No amount of Spotify marketing can beat hooking people by the ear with excellently curated songs.
Another great way to get organic followers is through the use of a genuine Spotify growth service. A dedicated manager and promotions team will ensure that you get connected with people in your target niche.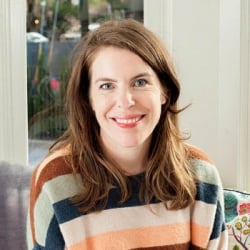 Latest posts by Maddie Schultz
(see all)