Spotify is a music streaming service that provides access to millions of pieces of music around the world to listen to on your phone, tablet, or PC, as well as some TV and car audio systems.
On Spotify, you can:
Choose music to listen to according to your mood and your preferred genre;
Listen to music recommended to you by Spotify based on the user's preference statistics
Create playlists of your favorite music;
Listen to playlists created by other users;
Listen to the playlists of your favorite artists or podcasts.
Follow your favorite artists and listen to their most recent compositions;
If you have ever thrown a party before and invited your friends over for a fun time, you must know how the choice of music plays a key part in making the party more lively. Unfortunately, only a few people can afford to hire a professional DJ for a party or event. With that in mind, people often than not have to get creative and come up with a playlist that will blend with the mood of the party or event. Well, it's at this time that you should consider using Spotify and its crossfade feature, to become a self-thought DJ.
Deejaying is not as hard as it seems, especially with the right tools to make work easier. With the Spotify app, you can easily come up with your own playlist from the millions of songs on the platform or even create a collaborative playlist and promote your account using Spotify growth service.
Furthermore, the music streaming service has various tools such as the crossfade song feature to make switching from one song to another much easier and less of a mood killer. You definitely don't want your playlist to keep pausing throughout as soon as one song ends. Therefore it is important to familiarize yourself with this feature and how to use it correctly.
So what is crossfade on Spotify, and how does it work?
What Is Crossfade?
Crossfade is a feature on Spotify that allows songs in your playlist to transition in or out smoothly. The transitioning of songs means that a song nearing its end will not wait until it comes to a halt before the next one starts running. In short, the music that is currently playing and nearing its end will slowly fade out, and the one to follow will slowly fade in.
This allows songs in your playlist to keep playing consecutively, without coming to a complete stop, not unless there is no other song remaining to transition to. The entire fading process is handled by Spotify's built-in software and audio tools; thus, users don't have to worry about the technical jargon.
How to Crossfade Music in Spotify?
Knowing how to crossfade songs is the first step to becoming a good playlist curator. It is thus crucial you learn how to use it if you plan to start a music career in the future. Currently, Spotify does not have the album crossfade feature turned on by default. The reason for this is that many artists prefer to add their own transition to their song albums. Since the feature is not turned on by default, you will need to enable it through settings to be able to use it.
So how do you crossfade songs on Spotify?
Whether it is on your phone or laptop, Spotify provides this feature on both versions. You can also import your favorite songs from your desktop's local library or Apple Music account. Make sure you follow these steps correctly to enable Spotify crossfade on your device.
Spotify Crossfade on Desktops/Laptops
If you use Spotify on your laptop or computer, then follow these steps to enable crossfade on your device:
Open the Spotify app on your Windows computer
On the top right corner, you will notice an icon with your picture and name on it. Click on it and a drop-down menu will appear. From the options, select Settings.
While on settings, scroll down until you see the section labeled 'Playback'
Under the Playback setting, you will notice the Crossfade option and a button to activate it on the far right. Click on it to turn the feature on.
Here, you can also adjust the crossfade timer to your preferred settings, the maximum value being 12 seconds. Use the slider to adjust how long you want your songs to crossfade for.
Spotify Crossfade on Smartphone
Spotify has included the crossfade feature on Android and iOS devices. This means you can easily toggle with the audio tools until you finally come up with the perfect crossfade for your Spotify playlist.
Enabling the crossfade feature on your smartphone is just as easy as it is on the desktop app. All you have to do is follow the steps outlined below:
While on the Home page of the app, you will notice the setting button on the top right corner. Click on it. Alternatively, if you are in the library section, you can also click on the profile icon with your image to open the settings panel.
Scroll down to the Playback section and, just below 'Offline Mode,' you will see Crossfade.
Just like the version of Spotify available on computers, users can use their smartphones to adjust the crossfade simply by entering their preferred configurations on the slider.
Conclusion
If you are using a free Spotify account, the Spotify Crossfade feature will be unhelpful. The reason is that you will be exposed to a lot of ads on the free account. So regardless of how you adjust your playback settings, you will still have to deal with ads that pop up from time to time. Unfortunately, a free Spotify account gets a lot of ads popping up, and you'll never know when they will appear.

When combined with the freshest songs, Spotify's Crossfade feature can make it easier to create a good playlist. Since you can't cross-fade songs when using Spotify connect, ensure you have disconnected from other devices on your Spotify before trying to turn on the feature.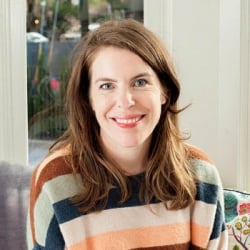 Latest posts by Maddie Schultz (see all)