Customer service has always been a vital part of any business. It is a medium for consumers to lay concerns and receive responses. With the advent of social media, this process has been streamlined and provides limitless potential for businesses to interact with their consumers. This article explores the impact of social media on customer service and how you can leverage it to boost customer experience and loyalty.
Social Media as a Customer Service Tool
Social media in customer service entails supporting your customers using various social media types. It involves reading customer inquiries and complaints and proffering answers and solutions. Using social media as a customer service tool allows brands to quickly solve consumers' issues, which is why most businesses use it. In most cases, brands utilize their main social media accounts to handle all customer matters.
However, some have dedicated accounts made specifically for customers. In addition, these brands usually create social media customer service jobs, meaning there is a dedicated team to handle customer support. Social media customer service is essential because it allows users to gain easy access to brands they patronize. It offers them a convenient way to communicate with brands and receive support for simple or complex issues.
With the development of this powerful tool, the hassle of consumers spending lengthy periods waiting on the phone for customer reps to pick up is almost eliminated. All you need to do is drop a message or make a comment, go about your day, and a support specialist will respond as soon as they can.
How Social Media Revolutionizes Customer Service?
Solving Issues Actively
Before the inception of social media, customer service meant waiting for consumers to make complaints or ask questions before the appropriate actions were taken. However, with social media, brands can conduct social network analysis and find out possible problems clients face before reporting (social listening). Now, instead of waiting for issues to arise, brands can proactively solve them.
Quicker Response Times
No product or service is perfect, and you are bound to run into issues or complaints. When these instances occur, consumers are looking to have their concerns resolved as soon as possible. Thanks to social media, their issues can be solved faster than ever.
In the past, customers would have to call or send emails, which could take long periods. Now, they can drop comments or send direct messages and have their concerns resolved in as little as a few minutes. You can even use chatbots (artificial intelligence) to help you solve problems without human interaction. Ultimately, social media helps you reduce the workload for your customer support team, and it reduces how much time it takes for clients to get responses, leading to stronger customer loyalty.
More Convenience Collecting Feedback
Customers are unlikely to stay on the phone with a phone rep after their issues have been solved to offer feedback. However, social media offers brands a way to collect feedback more conveniently.
On social media, businesses can create engaging and interactive content to collect feedback right after problem resolution or much later. Sometimes, you can collect feedback as part of your content strategy. You can do this by creating polls or asking questions on your account. Many users like to express their views and share their experiences. You can use this to collect feedback while increasing the engagement rate. Another perk of this method is it gives you a unique voice that your consumers can relate to.
Best Practices for Improving Customer Service on Social Media
Social media customer service best practices involve taking the most effective actions to ensure you leverage social media platforms. Here are some practices you can use to make sure your customers are satisfied.
Find Your Audience
There is a wide range of social media platforms, and you need to ensure that your business is available where your clients need support the most. Therefore, you should perform an audit of all your social channels and learn where your clients reach out the most and why. Afterward, you need to come up with a plan that best suits their needs and yours.
For example, you may notice that users make inquiries on Facebook and post content about your business on Instagram. This means that consumers opt for Facebook when they need help. Hence, you need to focus on delivering customer service there. That said, you should not completely neglect other channels. Essentially, you need to diversify your services and ensure that your online presence on each platform matches the requirement of your customers.
Be as Responsive as Possible
All forms of customer service rely on responsiveness. Note that responsiveness does not only mean responding quickly. You also need to ensure you respond to all customer queries. Leaving customers' queries unanswered paints a bad image, making current and potential clients think you do not care about their questions or concerns. So, ensure to respond to every query, no matter how insignificant it may seem to you.
Most active users comb through a brand's social media page before deciding to patronize a brand. If potential customers go through your profile and realize that you do not respond to queries, they may be deterred from buying your product or using your services. On the other hand, if they see you interacting with customers, it shows them you care about customer satisfaction, leading to more followers and customers.
Keep Track of Relevant Discussions
As mentioned, social listening is essential to ensuring your business is offering customers exactly what they require. Hence, you need to monitor all relevant conversations regarding your brand on all digital channels. This means paying attention to direct messages, post comments, and tags.
That said, you may not always have the necessary information using this method. So, you need to utilize a social media monitoring tool. This tool will be able to look out for conversations with specific words, allowing you get quickly locate relevant mentions that you may need to address.
Conclusion
As the world continues to embrace social media, the future of customer service has taken a new shape. Now, the process has gone from conventional phone calls and emails to social media interactions that help solve consumers' problems quicker.
By harnessing social media's power and using the best social media customer service examples, you can take your business to the next level by creating a loyal customer base and improving their experience.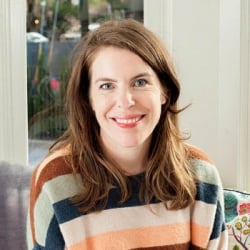 Latest posts by Maddie Schultz
(see all)