Social media has become a powerful tool for businesses to interact with and attract their target audiences. Not only does mastering marketing strategies help you boost your brand's visibility, but it also allows you to create a solid customer base. From understanding your ideal audience to creating the right content, this article will explore various strategies and tips to help you leverage social media to your advantage and take your brand to the next level.
The Role of Social Media in Marketing
Social media marketing involves using social media platforms to advertise a brand or product. This form of marketing involves creating engaging content for a specific audience and then sharing this content across multiple platforms. The role social media plays in marketing is essential to promoting a business, increasing sales, and generating leads. Here are a few benefits of social media in marketing:
Enhanced Customer Interaction
Marketing on social media allows businesses to gain easy access to their clients and boost customer loyalty. By using social media to answer queries, resolve issues, and respond to feedback, brands can show customers that their satisfaction is a priority, which leads to a stronger relationship.
Affordable Mode of Advertising
Social media marketing offers businesses a budget-friendly way of reaching a wider audience. This is an improvement on older marketing methods that typically cost more and yield less return on investment (ROI).
Increased Brand Recognition
Using social media to market your business means constantly sharing relevant content on your accounts. This active posting allows you get to reach a larger audience, thereby increasing your visibility.
Strategies for Successful Social Media Marketing
There are numerous strategies you can use to ensure success in social media marketing. Here are a few you can implement:
Grow Your Following
Growing your following is a vital social media marketing strategy because it boosts your credibility and visibility. That said, increasing your following is not an easy feat. You need to be patient and dedicated. This means constantly posting compelling content, using hashtags, and interacting with your social media audience. In addition, you can collaborate with influencers and participate in events related to your industry.
Develop Engaging Content
Content creation is one of the most essential parts of social marketing. The right types of content can do wonders for your brand. Therefore, you need to create high-quality content that attracts your audience. In order to provide diverse content and keep your audience engaged, focus on using different formats, like images, videos, written posts, and articles. Keep in mind that different social media types require different approaches. So, you should tailor your content strategy to match the features of the varying social media platforms.
Use a Social Media Management Tool
Many social media managers use social media management tools to plan and share their content. These tools were created to help businesses reach their target market, depending on the platform. For example, there is LinkedIn Sales Navigator for reaching your audience on LinkedIn.
Establish a Content Calendar
One key to social media marketing success is paying attention to detail and being organized. Thus, you need to come up with a schedule for posting content. Create a content calendar and approval process. Once this calendar is approved, you can use it to schedule when and how content will be released, whether daily, weekly, monthly, or quarterly. In addition, a content calendar helps keep track of the purpose of content, content type, channels, authors, and others. Remember to take note of social media posts that perform the best so you can recreate those types of posts in the future.
Utilize Paid Advertising
Organic reach is important on social media, but using paid ads can help extend reach to your target market. You can try different options until you find the one that works for you. Monitor how each ad performs and adjust your campaigns accordingly.
Effective Social Media Marketing Tips
Here are a few social media marketing practices you can use for your brand.
Plan Your Social Media Strategy
Before you start posting, you need to create a clear plan for your business. Run your social media strategy by your marketing, legal, and sales teams, and ensure they all approve. Also, learn if there are any rules that your companies in your industries need to follow. During this planning stage, consider factors like your business goals and how you can achieve and measure them. You should also decide on the content type you want to create.
Do Research on Your Target Audience
One of the most important tips for social media marketing is creating a strong base. You can do this by determining your target audience. Figure out their pain points, preferences, and needs. Discover how your audience's minds work and use that to your advantage.
Research to find out what platforms your target audience uses the most. Also, look at key metrics like engagement rate, reach, and conversions. Gaining this knowledge allows you to effectively adjust your approach to each platform and maximize your reach.
Choose the Right Social Networks
There are numerous social channels for customers and businesses to interact. While it is advisable to have an account on most platforms, you need to ensure you take out time and select the best ones to direct most of your resources to. When selecting the optimal platform for you, consider factors like target audience, marketing goals, and content type.
Be Authentic and Consistent
With so many accounts and active users on social media, it is easy to get lost in the noise. Sometimes, you may even sound robotic. This is why you need to create an authentic brand voice that resonates with your brand and audience. Ensure to use this voice across all your social networks and produce a consistent visual identity, such as color schemes and logos. Not only does this allow your viewers to relate to you, but it also helps you build trust and stand out amongst your competitors.
Conclusion
Since the advent of social media, these platforms have become an integral part of the modern world. Thus, it is vital that business owners master effective marketing strategies to use these platforms. From gaining valuable insights to adapting to current trends, these tricks allow you to create an engaged online community and drive conversions.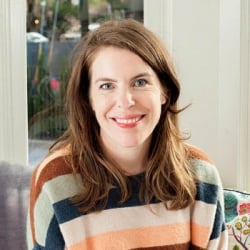 Latest posts by Maddie Schultz
(see all)