Spotify has over 406 million active users by the last quarter of 2021. Of this number, 180 million are premium subscribers. What this means is that about 226 million users worldwide are using ad-supported accounts.
You have 226 million people as the audience for your music or brand's ads on Spotify.
And when you're finished read through our other Spotify guides: 
Spotify ad types
The platform offers three types of ads: audio ads, video ads, and podcast ads. Let's discuss what you can get with each kind of promotion.
Audio ads
While it's called an audio ad, that doesn't mean it just contains an audio clip. As your ad is served in between songs, it is accompanied by a square image of your choice.
With just a glance at their screen, this photo helps the user understand what your ad is about. It could be your new album cover or artist that you're promoting, the photo of a new product you want people to know about, or simply your brand logo.
What's more, is that you get to add a clickable link to redirect users to your website. It's a great way to drive traffic to your page.
Your call-to-action is sure to be driven home effectively, even with just an audio ad.
Maximum length: 30 seconds
Accompanying image: minimum of 640×640 pixels
Tagline: 40 characters maximum
Platform: mobile, desktop, tablet, web player
Video ads
Just because Spotify is an audio streaming service doesn't limit it to simply vocal recordings. People still look at their device screen when browsing for songs to listen to, creating playlists, and so on.
Video Takeover ads take advantage of these times. These ads are only shown when the user is looking at the app. This guarantees that the visuals you prepared for your promotion will be received.
You also get a companion banner and a clickable link for users to easily access your website or artist page.
Maximum length: 30 seconds of video with audio
Aspect Ratio:
9:16 (portrait)
16:9 (landscape)
Quality:
HD 720×1280 or similar (portrait)
HD 1280×720 or similar (landscape)
Platform: mobile, desktop, tablet
Podcast ads
Podcast ads are quite similar in format to Audio ads. The difference is that these are scripted audio ads designed specifically to match podcasts.
All you need is an idea or message. Then the Spotify team writes a script for you and records it as well by their talented voice actors.
Maximum length: 30 seconds for pre-roll ads and 60 seconds for mid-roll ads
Script length: 60-90 words for a 30-second ad
Call-to-action (CTA) cards: with a clickable link
Advertiser name
Tagline
Logo image
Companion image
CTA button
Platform: mobile, desktop, tablet, web player
How Does Spotify Ad Studio Work?
Spotify proudly promotes its Spotify Ad Studio as a self-serve advertising platform. With just a few clicks, you can set up a complete ad campaign all by yourself.
To get started, you will need to have an Ad Studio account. This is different from a Spotify account. Either sign in or create an Ad Studio account.
Once logged in, you can begin selecting your ad specifications. You can choose from a lot of options to customize your ad campaign and reach your target audience.
Spotify also assures that you only get charged for ads that get served. That's like paying only for the flyers that get handed out and not getting charged for every person that passes by who won't even glance at you.
Why You Should Use Spotify Ad Studio
Spotify users really love listening to music or podcasts. When your ad is served to ad-supported accounts, you get their undivided attention. And millions of listeners can't simply skip or scroll over your ad, as with other social media platform ads.
You also get to target the audience that you want. No need to waste money on ads that will fall on deaf ears. These are the criteria that you can choose from:
Demographics – age, gender, location
Behaviors – interests, fanbase
Contexts – Platforms and devices, Music, Genres, Real-time contexts, Podcasts, Podcast Episode Topics
Custom targeting – available for advertisers who hired a Spotify team
Once your ad campaign is running, you get to see real-time stats on your Ad Studio dashboard. Check to see which ads are performing well and not-so-well. Optimize your campaign any time based on this data. So, you can be assured that your campaign will be a success.
If you don't have a ready-made ad to upload in the Ad Studio, Spotify has a creative team to help you. From script-writing, to voice acting, and sound mixing, the platform can provide everything that you need. And the good news is, it's not going to cost you extra.
You can reach your advertising goals easily with the use of Spotify Ad Studio.
How Much Does it Cost to Advertise on Spotify?
Campaigns start for as low as $250. Spotify charges by "cost per ad served."
Audio ads – $250
Video ads – $250
Podcast ads – $500 per campaign
If you have a larger budget allocated, you can avail of more services to reach your advertising goals. A dedicated Spotify team will be assigned to coordinate with you to set up your custom ad campaign.
Ways to Make Money on Spotify
The main method to generate income on Spotify is through getting track plays and music royalties. But there are other ways to earn if you're not an artist.
Check out this article on how to make money on Spotify. Get useful ideas to take advantage of Spotify's popularity.
Conclusion
Spotify is leading the race by leaps and bounds over Apple Music and Amazon Music, the two biggest music streaming platforms in the US.
So, if you're interested in promoting your brand, focus on your Spotify growth for a start. Every penny spent is worth it.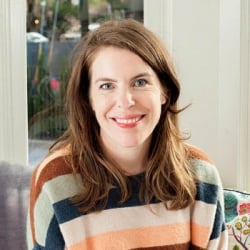 Latest posts by Maddie Schultz
(see all)