What is Spotify Group Session, and why is this feature a trending topic? We live in times of a pandemic when it's not as simple to see your friends or family members. Spotify heard the user feedback and decided to create a feature that lets you listen to your favorite podcast with friends and stream music simultaneously. If you want to learn all about this feature and how to use it, keep reading.
What Is Spotify Group Session?
Have you heard of the Spotify Party feature called Group Session? Well, if you haven't, you're missing out a lot. Although still in the Beta phase, this feature allows Spotify Premium users to listen to podcasts with friends and family members, create playlists, stream the same music in real time, and enjoy sharing their favorite content. With the help of a single link, you can connect with up to four other users and enjoy the benefits of this platform simultaneously. This feature is one of the best ways to stay socially distanced and still do things you love with friends.
Unfortunately, there is no chat feature when you're in party mode. Group sessions are only meant for sharing music with friends and enjoying the experience together. If you also want to talk to your besties during the session, you'll need to use third-party messaging services. Since the feature is in its testing phase, maybe Spotify will hear the wishes of their users and improve user experience by introducing a messaging option.
How To Create A Group Session On Spotify: Step-By-Step Guide
The Spotify Party Mode is a Beta feature, which means it's still going through the testing phase. However, if you and all your friends are premium users, you'll love how amazing this feature is and how easy it will be to create party playlists with your besties. The music streaming service offers millions of songs, so why not share your top song selection with your closest family members or friends? You can use this feature on mobile (Android and iOS) and desktop.

Open Spotify on your phone or computer and start playing a song.
You'll see the Spotify Connect button located at the bottom of the screen. Tap on it.
After you press the connect button, you should choose Start A Group Session, then tap Start Session.
Next, select Invite Friends.
Now you can pick from the various sharing options. You can copy a shareable link and send it to your friends via SMS or send an invite link to other social or messaging apps. If your friends are next to you, they can scan the code that appears on your screen and join the session. However, remote usage requires a link and won't work with a code.
The Spotify Group Session feature allows up to five people at the same listening party. After the party is on, you can all use the same standard controls, whether you're a host or a guest. If one user makes changes, they will appear on all the participant devices. As we mentioned, the feature is still in testing, it will go through changes to improve user experience over time. For example, the streaming service might decide to increase the number of users in a session and let them choose their display names before joining.

Another great thing to know is that you can join a session when it's already started. Here's what you should do to listen to your favorite playlist with your friends once they've already created a session:

Open Spotify on your phone or computer.
Start playing music, then select Available Devices.
Tap Scan To Join, and wait for your friends to send you a link. If you have a friend nearby, you can scan the code.
Tap Join Session.
Now you'll be an equal participant in the party; you can control playback (remove, add skip, play, stop music), contribute to the collaborative playlist, and the changes will appear to all the other devices.
Since we're all about growing your follower count, we have a secret tip we want to share. Because you can share links to a session with others, a great idea is to share your playlists on other social media channels. After other users join, they might love your music taste and decide to follow you on the platform. Then, together with an excellent organic Spotify growth service, you can reach the numbers you've always dreamed of and monetize your work. There are many ways to earn, including using the platform's affiliate link policy, running ads, promoting your playlists, etc. 
Conclusion
You can now start Spotify Party Mode and have the best time with your friends. This feature is an excellent way to connect, share your love for music, and create the best playlists together. Apple Music recently released a similar feature that imitates Group Sessions. Still, the growth opportunities on Spotify are much bigger, so we recommend sticking to this streaming service and utilizing all its features.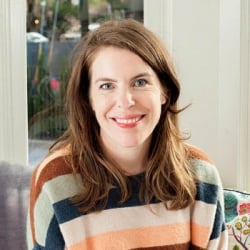 Latest posts by Maddie Schultz
(see all)