Sleep timers are time-triggered auto shutdown features built into devices. These are especially useful for situations when we need our devices to automatically turn off after a certain amount of time.
Sleep timers are also useful on Spotify, as there would be a lot of applications for this feature. If you want Spotify to shut down and sleep after a given time, or if you can be bothered to manually turn off Spotify, then the Spotify sleep timer is just the feature for you.
Tell everyone you know about this simple feature. Tell your friends, your family, tell even your Spotify followers if you have any. This article discusses how you can use the Spotify sleep timer feature for a more convenient Spotify user experience.
What is the Spotify Sleep Timer?
Spotify always updates itself with features and in this article, we focus on the Spotify Sleep timer. The Spotify sleep timer was rolled out in 2019 as its native auto-stop feature.
Of course, the Spotify sleep timer was not automatic and was set by the user to stop any music after a set time limit.
There will always be a practical application for a sleep timer. The most practical application users used for the sleep timer was for listening to music until they fell asleep. Some used them as timers for studying or working out.
Note that you can time Spotify to sleep up to after an hour of playing. You can choose from 5, 10, 15, 30, 45 minutes up to an hour. Spotify sleep timer also allows you to stop any audio after a current song stops playing.
How to Set a Sleep Timer for Spotify on Android
Spotify is most convenient on our mobile devices because we can take our music with us wherever we go.
Follow these steps if you want to set up and learn how to set a timer on Spotify using your Android mobile device:
Install the Spotify Mobile app from the Google Play Store if you have not done so yet.
Tap to open the Spotify mobile app on your Android device's home screen.
Choose the music you want to listen to by playing a song.
Go to 'Now Playing.'
Tap on the 3 vertical dots icon menu.
Scroll down to the 'Sleep timer' option on the subsequent menu.
A 'Stop audio' menu will appear. Choose the time duration to make the Spotify app sleep.
How to Set a Spotify Sleep Timer on iPhone
The advantages of having Spotify on your iPhone are numerous. That includes being able to set up a sleep timer when you need to.
Do these steps on Spotify using your iPhone if you want to set up a sleep timer on Spotify:
Install the Spotify mobile app on your iPhone through the Apple App Store if you have not done it yet.
Tap and open the Spotify mobile app on the home screen of your iPhone.
Tap to open and play a song or a podcast on your Spotify.
Tap on the 3 vertical dots icon menu in the top right corner of the "Now playing" screen.
Scroll down and tap on 'Sleep timer.'
Tap and select the timer setting you want.
Spotify will now sleep after the amount of time you have chosen.
How to Set a Sleep Timer for Spotify on the Mac
If you are using Spotify on your MacBook or Mac desktop, you can use your computer's native Battery options to serve as your Spotify sleep timer. Here's how:
Click on the Macintosh Logo in the top left corner of any screen.
Click 'System Preferences.'
Click: 'Battery,' then 'Power Adapter.'
Choose the time for 'Turn display off after.'
Your Mac computer and all running apps, including the Spotify app, will now automatically sleep after the time you set.
In Conclusion
It is a great thing that Spotify has thought of adding a sleep timer to their program. Now we can listen to music and not worry about turning off the app ourselves.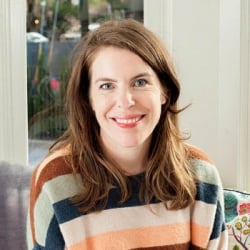 Latest posts by Maddie Schultz
(see all)