Spotify has over 70 million tracks and new ones are released on a regular basis, but some individuals are still hunting for ways to add Spotify local files and import missing songs. These are generally less popular songs in other languages, but there is a method to add them into your music library.
While Spotify may give you hours of amusement, thousands of songs, and even money if you get more Spotify plays, your favorite local songs will always be there for you.
So, let's get started and learn everything there is to know about this incredible feature that this streaming service provides.
What to Know Before You Import Songs on Spotify?
Importing your songs to Spotify is not difficult, but there are a few things to bear in mind to ensure a smooth transition.
You can only transfer your music collection on the desktop client because you can't upload it from your smartphone devices;
To listen to your music on mobile devices, you must be a paid or Premium Spotify subscriber; free accounts may only listen to these local files on the desktop app.
You must install the Spotify app on your desktop, whether it be Mac or Windows.
Spotify only supports a few file types, so make sure your songs are in MP3, MP4, or M4P format. For these formats to operate, you must also have QuickTime installed on your computer.
If you wish to listen to music on your phone's music app, you must be connected to the same Wi-Fi network as your computer.
Songs obtained in an unauthorized manner will not be posted to Spotify.
You must use the same account on your mobile devices as you do on your PC.
Now that we've covered the fundamentals, we can go on to actually importing songs to Spotify, so keep reading to learn more.
How to Add Local Files to Spotify?
Before we can start adding local files, you must first install the Spotify desktop app on your computer. The procedure is the same for both Windows and Mac users, and you also have to first enable local files in your Spotify app.
Here is how to do this:
Launch the Spotify app on your computer
Find the settings menu in the top-right corner and click on it;
In the next screen, you need to scroll down and find the "Local Files" option;
Toggle the button on to access local files
After that, you may upload songs to Spotify and make music playlists.
While Spotify's offer is among the greatest in the world, there's nothing wrong with including a few personal favorites for ease of access. Playlists are critical for growing your Spotify account, so give them your undivided attention.
How to add local files on a desktop device?
Now that you've enabled local files, we can add them to your playlists. Here is the step-by-step procedure you must follow:
Log into your Spotify app on your computer and find the settings once again;
Scroll down past the Local Files and click on the "Add a Source" button;
Depending on your computer OS, this will open either File Explorer or Finder, where you can find your music files;
Select the folder you want and click on "Open"
This will automatically add songs to Spotify;
To access your Local Files on the desktop, launch Spotify and navigate to "Your Library" on the left. When the new window appears, your local files will be shown on the right.
If you wish to listen to your Local Files on your Android device or iPhone, you must first add the music to a Spotify playlist. Keep in mind that these songs may only be listened to on mobile devices if you have a Spotify Premium subscription.
Here's how to add music folders to Spotify playlists:
Find Local Files on your app;
Select the song you want to add to a playlist and click on the three dots next to it;
Choose "Add to playlist" in the drop-down menu.
How to Add Local Files on a Mobile Device?
Local files cannot be added to mobile devices, however, if you have a Premium Spotify account, you can listen to those songs. Keep in mind that you must organize the music tracks into playlists that you may access using your mobile app.
Access local files on Android:
Open your Spotify app and log in;
Tap on "Your Library" at the bottom of the screen;
Your Local Files should be there, and you can tap on any music collection or song to play it;
If you want to download the music folder, you can long-tap the playlist and select "Download";
Access local files on iPhone:
To access the files folder on your iPhone, you must perform a few additional steps.

Open the Spotify app on your phone;
In the top-right corner click on the Settings icon;
Scroll down and find Local Files to open it;
Once there enable Local audio files;
When the local files are enabled you can find "Your Library" on the dashboard;
You can play songs from there by taping them;
You can also download playlists by clicking the three dots and "Download" option;
It is now possible to listen to your favorite songs even if they are not available on Spotify. You can blend different genres and create the right music for you by adding them to your Playlists.

Keep in mind that you can also create playlists on Spotify and earn a good living if you have a large following of people who trust your music selection and enjoy what you're doing. It's the ideal method to grow your Spotify account while still having fun.

Final Thoughts
Spotify may be the most popular music streaming service, but you can add your own songs if you can't find them on the platform. As long as you follow our precise instructions, your favorite tracks will be with you wherever you go.
Keep in mind that there are a few regulations to follow and that you must have a Premium membership, but given how beneficial and affordable it is, there is no doubt you should upgrade.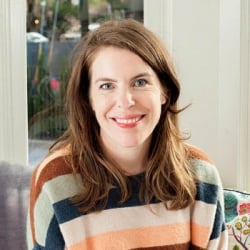 Latest posts by Maddie Schultz (see all)