If you are using Spotify to listen to your favorite artists and find the best music, you might wonder if you could follow someone on Spotify and see your friend's activity. The good news is that this feature is now available on the platform, and we are going to discover all the ways you can connect and follow user profiles.

This can be a great opportunity to keep up with your friends, follow artist profiles, and expand your list of followers as well.

Because Spotify has some amazing earning opportunities, it can be a great thing to get Spotify followers and make some money while doing what you love. So, for more information on Spotify following options, keep on reading.
And when you're finished, read our other Spotify guides:
How to Follow Someone on Spotify?
Spotify is one of the most popular streaming platforms, but it's also one of the best social networks that allows you to follow individual users and see what they are up to. This is an amazing opportunity to see the musical tastes of your friends and the activities of artists all around the world.

Depending on the device you are using as well as your friend's Facebook accounts, there are a few ways you can follow someone on Spotify.

Keep in mind that this platform is just like any other social network and followers are crucial for your Spotify growth, so don't be shy with the follow button and connect Spotify with all other platforms.
Why You Should Follow the Accounts of Users on Spotify?
You might wonder why would you follow other users in the first place when Spotify has millions of songs, podcasts, and even radio to listen to. If you are a frequent user of Spotify, you might appreciate how easy it is to share songs on your public profile but also discover new songs and artists along the way.

Friend activity will be visible on your profile, you just need to click on the "Activity" button on your dashboard and listen to the same music your friends appreciate.

In addition, by following others you are expanding your group of friends on Spotify that can come in handy when you want to promote your own content or playlists. The username search feature is super easy to use and if you want to learn how, then stay tuned until the end.
How to Add Facebook Friends to Spotify?
This is by far the easiest way to connect to Facebook friends and add them to your Spotify account. You might have some people who love the same type of music as you, just waiting to be discovered.

So, here is how to add Facebook friends to Spotify:

Log into your Spotify account using your email address and password;
On the home screen, find the "Follow" option on the left corner;
Click on "Find Friends" to see the list of friends from Facebook;
Enter the name of your friend in the search bar or simply add all friends;
Once you have the friend you are looking for, click on the "Follow" button on their profile.
This is a great opportunity to connect with your friends and share music easily through the music streaming app. It's also easier to find people this way when you are not sure about their Spotify name and if they might use a fake username for privacy.

But, can you add new people and those who are not your friends on Facebook? Keep on reading to find out.
How to Follow Someone on Spotify without Facebook?
If you want to follow your favorite creator or simply people who have amazing taste in music, you can do so on Spotify.

Just follow these simple steps:

Log into your Spotify account or sign up if you don't already have one;
Tap on the search bar in the top-right corner;
Enter the username of the friend or user you are looking for in this format: "Spotify:user:[username]" and add the wanted username;
Once you search for the username, the profile should appear;
Tap the "Follow" button and enjoy their Spotify playlists.
Keep in mind that the username should be precise, and even ask your friend about their Spotify username to narrow down the search. Considering there are millions of active users, generic names might not do the trick.

Always make sure to follow other users and get more followers on your Spotify profile to increase your earning possibilities and expand your influence. Growing your follower list is the easiest way to make friends and income on Spotify.
How to Follow Artists on Spotify?
You might want to do more than share your activity with followers, considering that Spotify is home to many famous artists. You can follow their official profiles and never miss any music activity or a new song.

Here is how to follow an artist on Spotify:

Launch the Spotify app and log in;
Find the search box and type in the name of the artist you want to follow;
Tap on their profile picture and click on the "Follow" button.
The process is the same for any mobile device and desktop app, so you can easily manage your Spotify account and follow the people you want. This way you can have all of your favorite songs in one place and an amazing list of followers who can help you grow your Spotify account.
Final Thoughts
Spotify has become so much more than a place with amazing music and great sharing options. It's an opportunity to grow your following and enhance your listening experience by following others.

Now you know how to follow friends from Facebook, new people, and even famous performers in a few simple steps. This will allow you to utilize the search option and find the best accounts to follow who might have a similar taste in music as you do.
Chances are you are going to get Spotify followers in return and grow your account organically just by being social and increasing your engagement.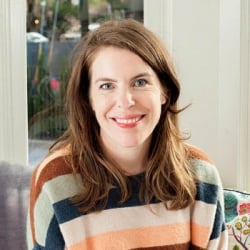 Latest posts by Maddie Schultz
(see all)