Cloud music services like Spotify are so amazing because they can easily become a part of all your smart devices. So whether that's a mobile phone, smart speaker, or gaming console, TV, Spotify is here to play millions of songs from the best artists in the music industry!
Have you ever wondered 'How to connect Spotify to my TV' but never got the answer? The comprehensive guide below will help you link your smart TV to the streaming service in a few simple steps.
Can You Play Spotify On Your TV?
Did you know that you don't only have to listen to Spotify from your desktop app, Android device, or Google Home device? You might not always see your TV as an audio device for your favorite songs, but it can be an excellent home asset for music lovers. Thankfully, Spotify is available on smart televisions. There are a few things to remember before you reap the benefits of linking this streaming platform to your home TV.
First, you'll need compatible devices and an internet connection (Wi-Fi or cellular network connection). Most smart devices, such as smart TVs, smart speakers, voice assistants, gaming consoles, are compatible with Spotify. So, if you own a smart TV, then you can probably play your favorite tunes.
Both Spotify free and premium users can enjoy Spotify on their smart TVs. However, premium subscriptions provide a range of features not available for users who opt for the free version. This popular music streaming service offers so many premium benefits, including downloading music offline, going ad-free, etc.
How To Connect Spotify To My TV: Step-By-Step Guide
How to link Spotify to TV if you've never done it before? Since there are several ways to play Spotify on TV, we'll share a few guides to get you through the process.
TV App
– First, you need to download the Spotify app on your TV. All TVs are different, so you'll need to make sure that it's connected to the internet, find the app, and download it.
– Next, log in to your Spotify account using your email address and password.
– Open the Spotify app on another device, such as your tablet or your phone.
– Open Spotify Connect and find the name of your TV. Tap on it to connect it with your phone or tablet.
– Choose the Log In With PIN option.
– Use another device to visit www.spotify.com/pair to type in the same PIN.
Spotify Connect
As long as two Spotify-compatible devices are connected to the same Wi-Fi network, you can link them using Spotify Connect. This can be your TV and speakers, TV and mobile phone, etc. Instead of using a remote control, you'll use your voice controls on your Spotify app. This guide is similar to the previous one, but it's faster and simpler.
– Open the Spotify app on your mobile device or tablet.
– Find the device's available option located at the bottom of the screen.
– Choose the name of your TV and tap on it.
You can also use Google Chromecast built-in devices and devices that support Apple AirPlay to connect your TV to Spotify. After going over these guides, all you have to do is to start rocking your playlists all over the living room, work hard to boost your organic Spotify plays, and monetize your playlists.
Possible Problems When Playing Spotify On TV & How To Tackle Them
In some cases, Spotify won't play on your TV, even if you did everything right. In other cases, it will work; however, you won't be able to use all the features, it will stop working in the middle of a song, there will be no sound, there will be warning signs or each time you try to access it the other device you're using stops working. If it happens, we have a few tips that can turn out to be a quick solution:
First, delete, then reinstall your Spotify app on the TV;
Update the TV's software;
Check if the internet connection is good;
Check if you need to update the Spotify app;
Restart the TV;
Turn the TV off, then turn it back on;
Connect your devices to a different Wi-Fi connection.
Conclusion
Music streaming services like Spotify are so popular because they're so versatile, easy to use, and are compatible with a range of smart devices. Today, you have made sure that connecting a TV to Spotify can be so straightforward. After linking any two of your devices, we're pretty sure your TV will become your favorite streaming place for the latest hits and your own playlists.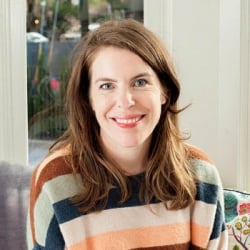 Latest posts by Maddie Schultz (see all)