Spotify is the most popular global music streaming service, with over 400 million users. Thanks to the wide range of songs and artists it features, this platform is a go-to choice for so many people. The platform offers a free version with ads between the songs and a paid, Premium version that's ad-free. Since not everyone can afford a monthly subscription, many users look for a way to block Spotify ads while using the free version. This blog will talk about the methods you can try to enjoy ad-free Spotify songs and how efficient you can expect them to be. 
Is It Possible to Block Spotify Ads?
Yes, it is possible to listen to music without ads on Spotify. However, your best bet and the safest route is to invest in a Spotify Premium subscription. All the other alternatives that we'll talk about below are risky and won't always work. The benefits of Premium are that you can listen to as many songs as you want without ad interruptions, offline listening to songs you've downloaded, enjoy higher audio quality, use Spotify on different devices, create a library of your favorite songs, albums, podcasts, etc. 
However, if you're looking to remove ads without Premium, you should keep reading. There are numerous ways to avoid paying for a subscription; however, we have to mention that Premium is the safest and proven way to enjoy music without being interrupted by ads. 
How to Get Rid of Spotify Ads?
Everyone who wants to enjoy the ad-free music listening experience on Spotify can try one of the methods we'll explain below. There is no guarantee which one will work; however, it's worth giving them a try if you want to avoid paying the subscription fee. Spotify changed its Terms and Conditions, letting its users know that they're not allowed to use an ad blocker to remove ads from the free version. The accounts that will use one of these tools can get suspended. The methods listed below aren't necessarily illegal but aren't a permanent solution either.
Connecting to Proxy Server
Changing the proxy server to another country where Spotify is still unavailable is a solution you can try. This method usually works for MAC users, and you can easily find a free proxy server by Googling it online. Here's how you can change the proxy settings:
Open the System Preferences on your MAC laptop.
Choose Network selection.
Go to Advanced Settings. 
Find the proxy section and choose FTP Proxy.
Add the new address you got online and apply the changes. 
Host File
Changing the host file on your MAC or Windows computer can potentially remove ads from Spotify. Unfortunately, this means that you will only enjoy this benefit when listening to Spotify Music on your computer, but not on your mobile phone. Here's what to do:
Windows users should go to C:\Windows\System32\drivers\etc\hosts and access this file as administrators. Then they should clear the DNS cache using ipconfig /flushdns. 
MAC users should first access Finder, then Go > Go To Folder and /private/etc/hosts.
The next step is to change the old file with a new one, and you can listen to Spotify without ads interrupting you.
One of the biggest downsides of this method is that Spotify changes its parameters often, so you'll also have to replace the host files frequently. 
Spotify Downloader
Getting a Spotify downloader is the best option for people who don't want to subscribe to Premium or go through the process of constantly changing host files. It works great for MAC and Windows users. Thanks to these programs, you can remove ads at a faster speed and listen to your favorite music files whenever you want to. Although there are many downloaders to choose from, the procedure is similar for most:
Install a downloader.
Open the song, album, playlist you want to download. Copy the URL and paste it into the address bar of the downloader. 
These programs let you adjust the sound quality, choose an output format, etc. 
Click the Convert button, and your music will be ready in no time. 
Once the music tracks are downloaded, you can add them to Spotify or use any media player you want. 
Skipper App
These apps are a temporary solution and can work on your iOS or Android device. When an ad starts playing, the app shows a Skip button that you can press, and you'll skip to the following song. In addition, the app will lower the music volume once the ad starts playing, and it will go back up after you skip it. 
To Run Spotify ads is an excellent way to promote your business, grow your audience, and get people familiar with your work. Although we've been covering ways to get rid of ads, most people don't bother listening to music with a few interruptions in between. In addition, more than half of Spotify's users aren't subscribed to Premium and use the free version. In other words, you can potentially reach more than 200 million people with your ads and note significant Spotify growth. You don't even have to be an artist to try Spotify's Ad Studio. As a result, many other businesses have decided to share their products with this platform's broad spectrum of users. 
Conclusion
Listening to your favorite music on Spotify is a bit more enjoyable when there are no ads to interrupt the session. Unfortunately, ad-free music on this platform is only available for Premium subscribers, but if you want to avoid paying, there are a few other methods that can work. None of these routes is 100% secure, and they won't always do the job. 
Although many want to avoid ads, they are one of the best ways to promote your work and get more Spotify plays. Each ad includes a link and an image that will take people to the content you want to share, and you'll get more exposure. If you're still convinced that you need to block ads on the platform, you can change the proxy server, change the host files, install a Spotify downloader, or try a skipper app.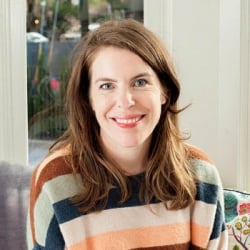 Latest posts by Maddie Schultz (see all)