In May 2020, Spotify announced the lifting of the 10,000 songs limit on a user's library. This was in response to an idea that was brought up in the Community Blog some years ago, which has garnered thousands of upvotes. Because of this, both their Spotify Premium and free account users can now enjoy unlimited likes and tracks added to their growing music collection.
Given this much freedom, you're probably going to start on a playlist-creating spree. So, your next concern would be, how many playlists can you have on Spotify without Premium? We will answer that and more in this short read.
How Many Playlists Can You Have on Spotify?
There is no limit to the number of playlists you can have on your Spotify Free account.
There is, however, a cap on the number of songs you can put in each playlist, which is 10,000 tracks. It is assumed that this limitation is kept in place to avoid loading issues and the app crashing, despite users clamoring for its removal for years.
Also, ad-supported accounts can merely download podcasts. Only Premium users have the privilege to download playlists for offline listening. But if you always have Wi-Fi or an internet data connection, then this isn't much of an issue.
Since the approval of the company to give all users unlimited likes and tracks, the 10,000 songs limit per playlist does not really matter that much. A simple solution is to just create multiple playlists to curate all your favorite songs!
Tips on Сreating New Playlists
Since you have the power to create as many playlists as you want, here are some ideas to help you curate your Library. Create different types of playlists for every mood and activity. You can try some of these techniques or try all of them and see which method of creating playlists you like the most!
Tap the "Add Songs" button
When you create a playlist, Spotify's AI generates titles that you will like based on its predictions. Discover similar songs in the Suggested section based on the music already in your playlist and your listening habits. Simply tap the plus icon beside each track to include it in your playlist.
Edit an existing playlist and make it your own
Stumbled upon a playlist you like? You can save a copy of it to your library, so you can edit its contents. Remove tracks you don't dig and add more of the music you like that jives with the other songs on the playlist. Now, you can make new personalized playlists easily!
Create a collaborative playlist with your friends
You can invite friends to collaborate on your playlist! They can add songs to it based on your playlist name and description. So, make sure you clearly label the playlist to keep it coherent and get the mood you want.
Create a Blend
One of the new social features on Spotify is called Blend. A Blend is a shared playlist that autogenerates tracks based on the participants' music listening habits. The algorithmic playlist auto-populates tracks daily, so you can expect refreshing sounds every day. You can invite up to 10 friends to join your group Blend. The more people there are, the wider the variety of music you will probably get each day.
You can save the daily Blend playlist by tapping the three dots and choosing "Add to another playlist." Tap the "New Playlist" button to create its own new playlist. This is probably the most fun, easy, and exciting way of creating a new playlist! (Note: You can only save a Blend using your mobile device.)
Final Take Away
Now that you know the answer to how many playlists can you have on Spotify, spread the word and the good vibes! Share your newly created playlists with friends and have fun collaborating on new ones. Get the party goin', and don't ever let the music stop! There will never be a dull moment in a music-filled life.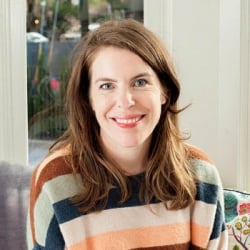 Latest posts by Maddie Schultz
(see all)